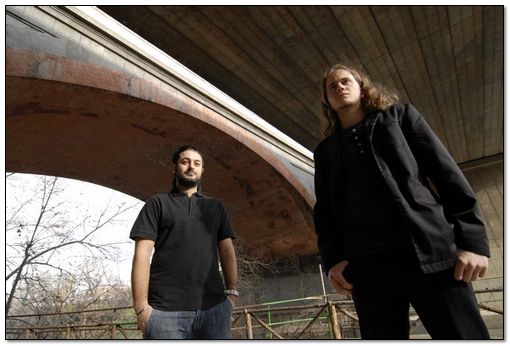 Red Velvet è il nome di un duo franco-italiano formato alla fine del 2007 da David Chalmin (chitarra, voce) e Reeks (batteria, sintetizzatore, campionatore). Ispirati dalla loro partecipazione alla band B For Bang e dopo le performance in numeorsi festival europei (Montpellier Radio France, Ruhr, Ravello, Brema, Ferrara, Barcellona/Sitges), Chalmin e Reeks decidono di registrare il loro primo cd.
Influenzati da band quali Sonic Youth, The Smashing Pumpkins, Radiohead e Led Zeppelin, ma anche da Nick Drake e Aphex Twin, è allo storico club Bracaleone di Roma, dove hanno provato e registrato il cd, che Red Velvet ha trovato il suo suono, mescolando analogica e digitale, rock ed elettonica. La preparazione e la produzione dell'album ha offerto a Chalmin l'opportunità di sviluppare una nuova dimensione sonora, realizzando un dark-indie rock controverso e caotico.
LINKS
www.kmlrecordings.com
www.redvelvet.fr
www.myspace.com/redvelvetduet
www.davidchalmin.com
www.myspace.com/nohaybandatrio
www.infernogrindnroll.com
RED VELVET
David Chalmin - guitars, vocals
Fabio Recchia aka Reeks - humanoid/analog drum & bass and electronics.
Prodotto e arrangiato da Red Velvet
Registrato, missato e masterizzato da Reeks@Hombrelobo, Roma.
Rockshock.it - agosto 2009